Common Question:
Do I need to create a new Project ID or can I use an existing one?
Answer: There are many reasons a practitioner may decide to create a new Project ID. Below are some factors you may want to consider.
1) Add-On Modules
ALL Reports EXCEPT Strengthscope® is considered an "Add-On Module". Why? Because you cannot complete them without first completing Strengthscope®. Strengthscope® is the foundational assessment for everything that you will do in the system.
All other products (Strengthscope360™, StrengthscopeTeam™, StrengthscopeLeader™, and StrengthscopeEngage™) are then ADDED ON to Strengthscope®.
Example: Team Reports
Are you working with a new team that you will be generating a team report for?
If you are using the StrengthscopeTeam™ WITH Productive Habits (the additional Team Questions) it is HIGHLY recommended you create a new Project ID.
Remember, you will need to select BOTH Strengthscope® and StrengthscopeTeam™ when creating a Project in this scenario.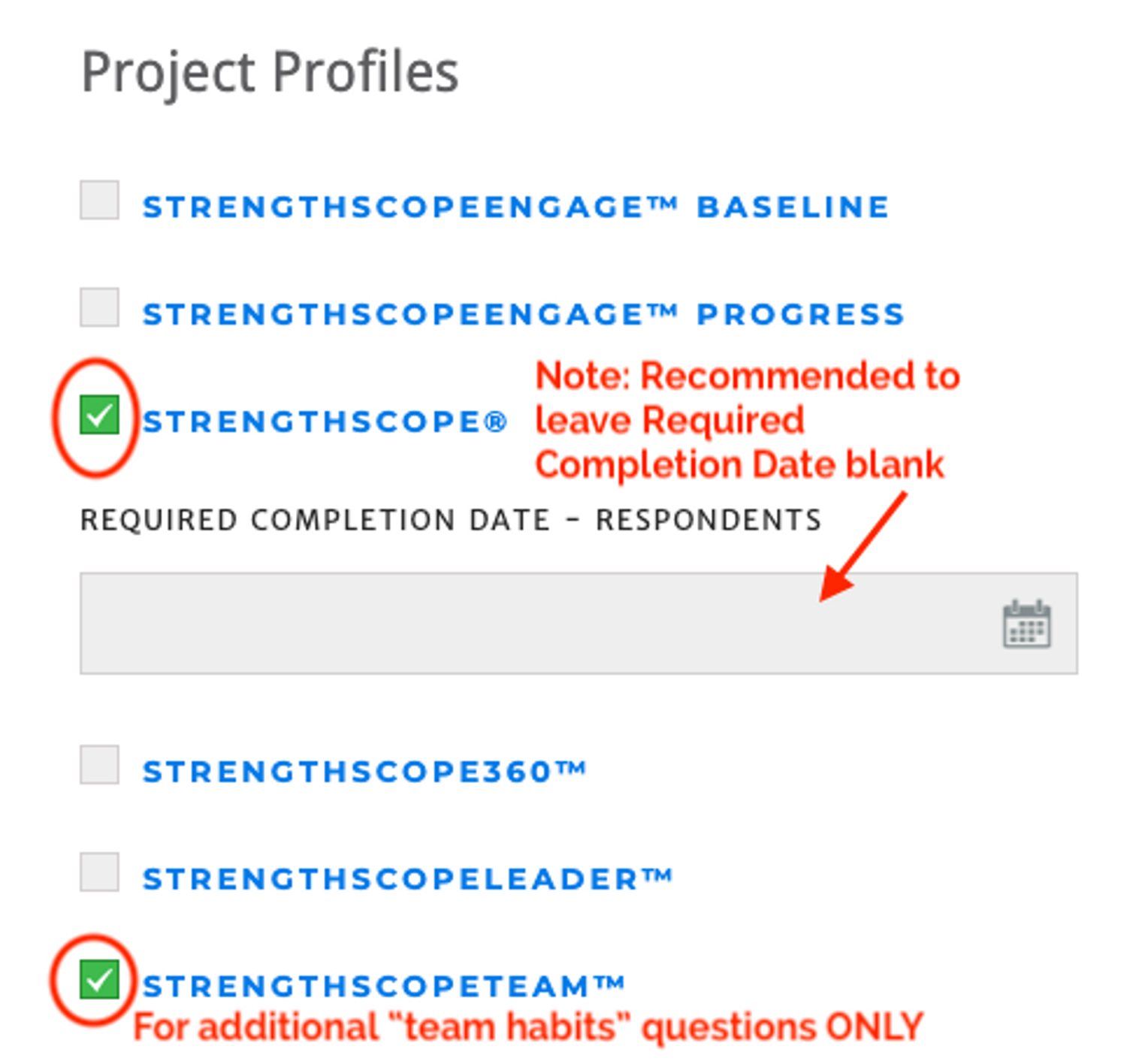 ---

2) More than one person needs to receive Strengthscope® completion notification
There is only space for one email address to receive "support notifications" when a respondent completes the Strengthscope® assessment on a Project ID.
In organizations with multiple Practitioners and System Administrators, there may be more than one Project happening at once. Using the same Project ID can get confusing quickly.
You may also need to consider your organization's guidelines regarding employee confidentiality.


---

3) You plan to have hundreds (or more) complete the assessment
The admin time it will take to sort through all of these respondents will be much greater if they all complete on a single Project ID.
You can use the "Filter" option in the Activities List to show only respondents in a certain Project ID. You will ultimately save time if you create different Project IDs to segment the large groups you are working with.